GENERALI SMART PA offers one of the most comprehensive personal accident insurances that you need with a wider coverage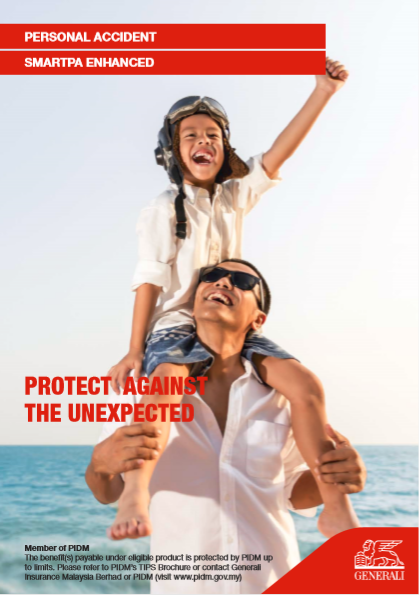 Double payout up to RM 2 mil
●Pays double the sum insured for accidental death or permanent disablement travelling on a public transport, travelling overseas, during festive season or being a victim of snatch theft or robbery.
Renewal bonus up to 120%
●Principal sum insured for Accidental Death/Permanent Disablement will increase 15% per year up to 120% upon renewal of insurance provided there is no claim under Accidental Death or Permanent Disablement.
Renewable up to age 100
●You are eligible to buy up to age 69 and the policy is renewable up to age 100 ensuring continuous protection into your golden years.
Hassle-free cashless admission to panel hospitals
●Guarantees up to RM 12,000 for admission at panel hospitals in Malaysia due to an accident. You just need to show your identity card.
Family Plans Privilege
●Extend the protection to your spouse and family with unlimited number of children and enjoy 3 times sum insured with double payout up to RM 6,000,000.
Covers snatch theft and robbery
●Pays up to RM 500 for loss or damage to personal items due to snatch theft or robbery.
No Claims Discount
●Get a 10% discount on your renewal premium if you do not make any claims on your policy.
Daily Hospitalization Allowance
●Up to RM 250 daily cash allowance is paid each day to a maximum of 180 days for hospitalisation due to accident. This is on top of the Medical Expenses payout
Brochure>>
Product Disclosure Sheet>>
For further information on this product please contact or e-mail us at
KL Main Branch : 03-2172 6666 (kl_branch@my.icbc.com.cn )
Kuching Branch : 082- 272 8888 (kcg_branch@my.icbc.com.cn )
Johor Bharu Branch : 07-2310 888 (jb_branch@my.icbc.com.cn )
Or make an appointment with us by email icbcmalaysia@my.icbc.com.cn