GENERALI SMART SME PLUS
GENERALI SMART SME Plus is one of the protections plans that provide you and your employees a hospitalization medical coverage plan that is convenient and affordable at the same time.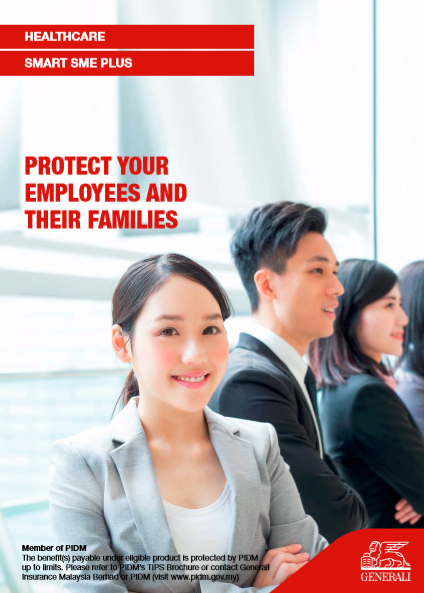 Key Benefits
Basic Plan: GENERALI Smart SME Plus Group Basic Medical (GBM)
Cover medical expenses incurred as a result of hospitalisation or surgery due to an illness or an accident:
●Provides 5 attractive plans with the overall limit per annum ranging from RM20, 000 to RM80, 000.
●Option to choose the most suitable coverage for your employees and extend the coverage for their dependents too.
●It extends to cover Second Surgical Opinion, Emergency Sickness Treatment, Emergency Medical Evacuation and Funeral Expenses.
●Supplementary Plan: GENERALI Smart SME Plus Group Outpatient Medical (GOM)
●It provides both General Practitioner (GP) and Specialist (SP) care at Out-patient level.
●Employees can access Panel GP or Panel SP on the cashless basis which is a convenient way of seeking medical treatments. Coupled with the hospitalisation plan, your employees can enjoy comprehensive medical coverage.
Note:
1. Please refer to the full feature and benefits and scale of benefits in the policy contract.
2. Duration of cover is for one (1) year. You need to renew your insurance coverage annually.
How much premium do I have to pay?
The total premium that you have to pay may vary depending on the choice of the plan required and underwriting requirements.
Brochure>>
Product Disclosure Sheet>>
For further information on this product please contact or e-mail us at
KL Main Branch : 03-2172 6666 (kl_branch@my.icbc.com.cn )
Kuching Branch : 082- 272 8888 (kcg_branch@my.icbc.com.cn )
Johor Bharu Branch : 07-2310 888 (jb_branch@my.icbc.com.cn )
Or make an appointment with us by email icbcmalaysia@my.icbc.com.cn