Dear Valued Customer,
In order to further enhance the security of Internet Banking, ICBC Malaysia is strengthening the login credential. Please modify the browser's settings in accordance with the following instructions below.
1.Window + Internet Explorer
a.WindowXP, Vista, Server2003: Internet Banking are no longer be supported, please update to Window7 or above version.
b.Window7, Window8, Server2008: please ensure in Internet Explorer > click "Tools" > Internet options > turn on TLS1.2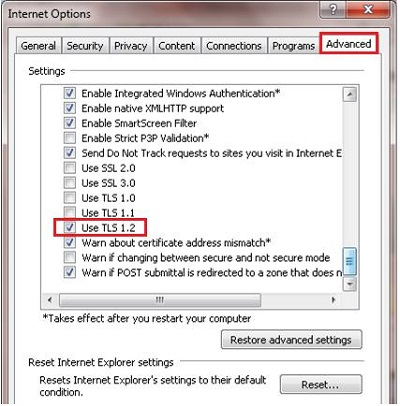 2.Google Chrome
Internet Banking are no longer be supported on Version 29 or older version, please update to Version 29 or above version.
3.FireFox
a.FireFox23 or older version does not support TLS1.2, please update to FireFox27 or above version
b.FireFox24 or above version: please turn on TLS1.2 in the browser's settings
4.MacOS+Safari
Internet Bankinig are no longer be supported on version OS X 10.8, please update to version OS X 10.9 or above version.